【精选】英文求职信模板集锦9篇
  时间稍纵即逝,许多朋友又将开始寻求新的工作机会,此时是不是该好好写写求职信呢?相信写求职信是一个让许多人都头痛的问题,以下是小编精心整理的英文求职信9篇,希望能够帮助到大家。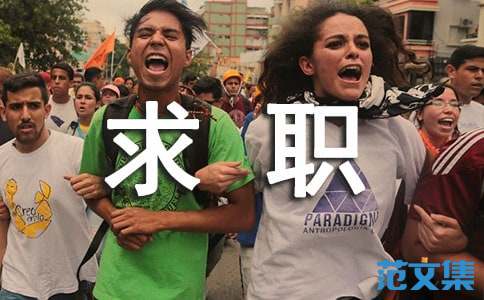 英文求职信 篇1
  Dear Sir,
  In reference to your advertisement in the JobsPower.com for a playground director, I believe that I have the qualifications to fit your position.
  I hold a degree in Physical Education from the University of South Dakota. Along with my physical education courses,I also selected many courses in psychology and child management. During the summers, I worked as a volunteer playground director in several suburban areas surrounding the university.In the summer of 1983, I was an assistant in charge of organized sports for younger boys in Walton, south Dakota. The year after that,I was placed in charge of a large summer program for under privileged children in the large city of Millon, South Dakota. My supervisor during this time was William Johnson. He has consented to act as a reference for me.
  My additional experience includes working as a City Park Recreation Director in Rockford, South Dakota for the years of 1985 to the present time. In this position I am responsible for the programs in all the city park, including all organized recreation and night-time sports.
  If you feel that I am suited for the job that you have in mind, please inform me of the time convenient for an interview. I hope to hear from you in the near future.
英文求职信 篇2
dear mr。 courtsworth:
  i am seeking a ceo position in the chemical industry。 my professional career exhibits a record of strong achievement and significant contributions。 i am a top performing chemical industry executive with an extensive sales, manufacturing, research and operations background。
  throughout my career i recruited selected and developed very talented managers。 i utilized persistence, technical expertise and interpersonal skills to establish and build long-term relationships with diverse customers。 i analyzed, evaluated and led entry into new market niches enabling the company to generate significant profits, and am recognized as a creative manager with strong strategic planning, communications, listening, and operational skills。 the following highlight some of my key accomplishments:
  analyzed markets, determined special market niches, shifted product line and aggressively led entry into new markets resulting in sales growth of 300% and a sizeable profit improvement 。
  exercised operational pl responsibility for a $30 million corporation manufacturing industrial specialty o。e。m。 paints and coatings。
  landed major industrial accounts by building solid relationships through persistent and creative presentations, development of superior products, and quality service。
  if my qualifications are of interest, mr courtsworth, i would be delighted to meet with you to further explore opportunities with your fine company。 i hope that we will have the opportunity to meet shortly, and i look forward to hearing from you。
英文求职信 篇3
  309 Lake Ave.Bristol, OhioJune 17, 19-Crown Laundry Co.Bristol, OhioGentlemen: In reply to your advertisement in the Bristol News of June 2, I wish to say that I am seeking the kind of position your offer. I am nineteen years old, and expect to graduate from the Bristol Technical High School this month. During three years of the course I have been working with many kinds of machinery and have helped to set up and repair the machinery in one of the school shops. My father is a chauffeur, and I helped him in repairing automobiles. Last summer I took a party of excursionists on a three weeks'tour. While we were in West Epping, away from repair shops, my machine was badly damaged. I had to repair two cylinders and rig up a temporary steering wheel.Inclosed you will find a copy of my resume-and my photo. I believe they may be found satisfactory. Concerning my character I am permitted to refer to Mr. H. L. Sled, Head of the Mechanical section of the Bristol Technical High School.Yours truly,signatureDear Sir:
英文求职信 篇4
  Dear Mr. Li:
  In searching for employment opportunities on the Internet, I learned that your company is looking for some young girls to work as guide, according to the advertisement, your position requires I feel that I am competent to meet the requirements. I hope you can open the opportunity and the success gate of for me.
  On June 25, 20xx, I will receive a bachelor of business in tourism management administration from Anhui XX University. Four-year professional learning during the college has laid a solid foundation of tourism knowledge and relevant theories . In the meantime,I have excellent communication skills,Besides, I have been familiar with computer operation. such as WORD、EXCEL and so on.
  In addition to study,I also putting the knowledge into application.I have participated in lots of practice in my spare time and vocation. Sometimes to be a Salesgirl、sometimes to be a tourist guide.All of these enhanced my abilities of combining knowledge and practice, cooperation and organization. I have had benefited much from my part-time job, example as self-confident. While in college, I have been working hard and doing well in the major courses. I have won several scholarships, excellent league member, "Three Goods" Student .and I passed CET-6, with high marks and so on.
  I sincerely hope that you'll be kind enough to consider my application favorably. I wish to assure you that, I will try my best to be a diligent worker and a fast learner. If given a chance, I enclose here in my resume and some relevant documents as required. I will make myself available Please call me at (055) 276-****.
  Thank you for your time and consideration.
  Sincerely
英文求职信 篇5
  Dear Sir,
  In reply to your advertisement in Beijing Youth Daily of December 25, I respectfully offer my services for the situation.
  I am thirty-two years old and a graduate of Beijing Foreign Studies University, My experience in this line of work includes five years as a salesman with the NCC Company. The reason for leaving my present employment is because they're closing their office.
  I am enclosing my resume together with my photo, and I believe that they may be found satisfactory. As regards salary, I would be glad to start with HK$ 5,000 per month plus commission.
  If you would like to know more about my ability, I can be available for an interview at any time convenient to you.
英文求职信 篇6
Distinguished leadership:
  hello! My name is XXX from XXXX. As a graduated from xx college students will face. First of all, I sincerely thank you for making time to see my resume in your busy time, my heart zhu GUI company business is thriving, progresses day by day.
  I am a mechanical design and manufacture of professional students, with the love of their own professional, in various aspects have made great development. During the period of school, I pay attention to the combination of theory and practice. Mastered the operation of numerical control lathe, general car, has made the numerical control lathe, the lathe work certificate.
  In his spare time, have studied the microsoftoffice, cad/CAM application software, have certain computer technology. Four years college life, I developed the character of calm self-confidence and steadfast rigorous work style, and the excellent quality of unity and cooperation, I believe themselves can whilst on the jobs, dedication!
  I sincerely hope to join your company, will be with full enthusiasm and strength of character, hard work with colleagues sincere cooperation, to render the development of your company do, for your company offer their own youth and blood tomorrow!
  advance
  salute
英文求职信 篇7
尊敬的领导:
  您好!感谢您在百忙之中审阅我的自荐书,这对一个即将迈出校门的学子而言,将是一份莫大的鼓励。相信您在给予我一个机会的同时,您也多一份选择!即将走向社会的我怀着一颗热忱的心,诚挚地向您推荐自己!我叫***,是陕西XXXX旅游管理20xx届毕业生的一名专科生,我怀着一颗赤诚的心和对事业的执著追求,真诚地向您推荐自己。
  在校期间,我认真学习,勤奋刻苦,努力做好本职工作,在实践中积累了大量的工作经验,使自己具有良好的身体素质和心理素质。几年来我努力学习专业知识,从各门课程的基础知识出发,努力掌握其基本技能技巧,深钻细研,寻求其内在规律,并取得了良好的成绩, 在大学里,丰富多彩的社会生活和井然有序而又紧张的学习气氛,使我得到多方面不同程度的锻炼和考验;正直和努力是我做人的原则;沉着和冷静是我遇事的态度;爱好广泛使我非常充实;众多的朋友使我倍感富有!我很强的事业心和责任感使我能够面对任何困难和挑战。
  这样一个竞争激烈的社会里,不仅要掌握好专业知识,更加做到与社会与时代接轨。因此,学习之余,我注重知识与能力的平衡发展。
  刚踏出校门的我谈不上十分的成熟和足够的经验,但我有过人的胆识和自信心,正所谓:"是龙,就应该去大海搏击,是鹰,就应该去长空翱翔。"面临人生的重大抉择之际,我希望能加盟于归单位,展示自己的才能,实现个人的理想与价值。这就是我的大学生自荐书范文。
  简单的几面纸,只是我的"包装"和"广告",自身的"质量"和"能力"有待于您通过使用来证明。
  此致
敬礼
英文求职信 篇8
  Hello. The bank has been a good image in the social reputation, I am about to graduate, if there is a chance is willing to your company can effect a modest! My name is XXX, graduated from the China University of Mining and Technology, was studying financial management specialty. The following is my personal letter of introduction.
  I to your bank for some basic understanding. As a newcomer students finish their studies, I have the confidence to accept the social test and the challenge from its own. During my college study hard, strict demands on themselves, respect for teachers, and actively participate in various activities organized by the school. On weekdays, and teachers and students live together in peace together. In English, passed Band Four six examination. I know, the bank clerk is the need to have a strong sense of responsibility, practice. Therefore, in school period, I tried a different practice and work. I do Secretary, did the promotion, has made the family, worked as a waitress, different occupation has given me a different experience let me gradually from a silly little girl into an independent thinking, problem solving skill and teamwork spirit. In order to remain invincible in the work, do a better job.
  I hope to go to your bank to work, to learn the theory of combination of knowledge and practice, so that their life can have a qualitative leap. I believe that your bank is whole image, management mode, working atmosphere will be more attractive to me in my mind, is the pursuit of the ideals and goals.
  We enclosed a copy of my resume, hope to be able to notice will have the opportunity to meet.
  Sincerely yours
  Salute
  附:英文求职信中文翻译版
  您好!贵银行一直以良好形象在社会上享有美誉,我即将毕业,如果有机会的话很愿意能为贵公司效一份微薄之力!我叫XXX,毕业于中国矿业大学,学习的是财务管理专业。以下是我个人求职信的内容介绍。
  我对贵银行进行了一些基本的了解。作为一名将结束学业初入职场的学生,我有信心接受社会的考验和来自自身的挑战。我在校期间学习努力认真,严格要求自己,尊敬师长,积极参加学校组织的各类活动。平日里,与老师同学和睦相处。在英语方面,通过了四六级的考试。我深知,银行职员是需要有强烈的责任感的.,实践出真知。因此,在学校期间,我尝试了不同的实习与工作。我做过店员,做过促销,做过家教,做过服务员等,不同的职业给予我不同的经历让我渐渐从一个懵懂的小女孩转变成为了一个具有独立思考、解决问题的能力和团结协作精神。以求在工作中立于不败之地,更好地做好工作。
  我很希望能到贵银行去工作,使自己所学的理论知识与实践相结合,让自己的人生能有一个质的飞跃。我相信贵银行的整体形象,管理方式,工作氛围会更加吸引我,是我心目中所追求的理想目标。
  随函附寄简历表一份,望能通知能否有机会见面。
  此致
  敬礼
英文求职信 篇9
  首先,求职信Cover letter 真的很重要吗?
  除了有好的英文履历之外,还需要一份针对你想申请公司和职缺的求职信,也就是 cover letter,英文求职信真的非常之重要!!原因除了求职信本身就是要跟着履历发出去的一封信件外,更重要的是 – 履历只能告诉人资求职者的各方面条件如何,而从求职信中才可以更清楚地让你想要进入的公司你比其他求职者更优秀的地方在哪?为什么他们非用你不可?
  求职信可以说是你与应聘公司的第一封情书
  因此,求职信是大家可以好好发挥并展现你想在这间公司工作的热情,希望公司收到这封情书后会对你有兴趣并且给予面试的机会。
  求职信要回答什么问题?
  在写这份求职信 cover letter之前,必须要先花一点时间思考如何回答以下这两个问题 :(这两个问题其实就是公司会想要从这份求职信找的答案!!)
  1、为何么想要在这个公司做这个工作?
  这个问题背后的含义是:你对这份工作有多大的热情? 你是否已经在相同或相关的领域有工作经验?如果有,非常好!用过去的相关工作经验和想申请的这个职位做个完美的连结
  那如果还没有怎么办?我知道很多刚来英国打工度假的朋友第一份工作想做精品销售,但在台湾就是没打过工啊!这样重点可以著放在学校或是从嗜好培养出的相关能力,尝试用这些能力去和这个工作要求的能力沾上边
  以精品业或是零售业整体举例来说:须具备的能力有 team work, good communication skill, customer service, interpersonal skill, multi tasking, problem solving skill 等等,可以问问自己以前有没有团队合作的经验?是否曾经搞定过很难搞定的客人?或是有无一次处理很多事还处理得很好过的经验?
  *千万不要瞎掰或造假工作经验,因为就算这样得到面试机会,也会在面试中露出破绽
  2、你可以为公司贡献什么?
  以我的了解这个问题的意思是,如果每个应征者的工作经验背景都差不多,你比其他求职者更优秀的地方在哪?或是有没有对想申请的这间公司有任何不同想法或建议?
  讲到这边大家可能会觉得求职信好像很麻烦而且要写得东西好像很多,但不用担心!以上内容简单扼要就好(A4纸大小一面以内),毕竟这是与公司的第一封见面信还是要吸引公司看你的履历。而且准备这些问题都是在为之后面试中的问答做好练习!
  求职信的写法大纲
  在信件的开头部分,以信件的写法放上 Dear Mr / Mrs __________ ,
  字体的大小 : 12 / 字体 Century Gothic
  长度最多不超过A4一面
  内文分为三个主要段落 :
  第一段说明想要申请的公司职缺以及从哪里得知这个工作的讯息
  第二段用来回答以上说的两个重要的问题
  最后一段表示感谢希望收到公司的来信
  第一段 EXAMPLE :
  I am writing to apply as a sales associate in __Burberry__(company name)which has been advertised on _________ (websites name).
  这一段只需开门见山的注明清楚欲申请的职位及公司名称,和从哪里得知此职缺的讯息即可,让人资可以马上知道这个应征者想要申请的部门职位以便做后续处理,这也是把这些资讯放在第一个段落的原因
  第二段 EXAMPLE :
  I have previously worked in Charles Tyrwhitt (company name) as a sales assistant (position) in London for 1 year. Three months after joining the company, I became the top sales of the company branch. I was able to successfully assist Chinese customers in particular to make purchases while maintained a good level of overall customer satisfaction by my language expertise. Through this experience, I have gained skills such as customer service, sales, teamwork and problem solving skills.
  I have an extensive background in relationship building and finding ways to connect with people. Combined these skills learned from CT and my knowledge in menswear, I believe that Burberry's menwear department is the perfect place for me to utilise my customer service skill sets and fully contribute to your company.
  第二段是整个信件中的核心部分,需要好好把以下这两个问题回答清楚:
  为何么想要在这个公司做这个工作?上面英文第一句的部分我用过去在零售业的工作经验作为连结。接着叙述我在加入公司后三个月后达成的一个小成就,就是成为分店的销售王!因为我的语言的优势让我更有办法让我服务的中国客人埋单 ; 并且说明从这个经验中学到哪些能力?
  你可以为公司贡献什么?上文中写到我除了有善于与人打交道的个性,加上在之前公司 (CT)卖男装的经验,我相信能够将所学和经验发挥在贵公司 (Burberry)
  我用了一个非常简单的例子来说明求职信内容的大致的方向以及需要回答到的重点,当然这不是完美的范例也需要依照每个人想投的公司类型和职缺去做适当的修改
  最后一段 Example :
  Thank you very much for considering my application. I am looking forward to hearing from you.
  Sincerely,
  David
  表示感谢公司花时间考虑你的申请文件,并且期待可以得到公司的回复,下面挑一个敬语 Sincerely, Kind regards,Best regards放上,最后加上你的署名就大功告成了!
【【精选】英文求职信模板集锦9篇】相关文章: